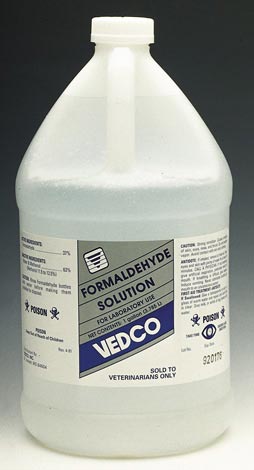 FORMALDEHYDE SOLUTION
Reagent
Click here for MSDS
Active Ingredients:


Formaldehyde 37%
Inactive Ingredients:


Water and methanol 63%
(Methanol 11.5 to 12.5%).
Indications:


FORMALDEHYDE SOLUTION 40% by volume U.S.P.
Dosage and Administration:


The product is a reagent only.
Cautions:


Rinse formaldehyde bottles with water before making them available for disposal. Strong sensitizer. Causes irritation of skin, eyes, nose, and throat. Do not inhale vapor. Avoid contact with skin and clothing.
Warnings:


Poison. Keep out of the reach of children. Causes irritation to skin, eyes, nose, and throat. Avoid prolonged or repeated contact with skin. Avoid inhaling vapor. Use with adequate ventilation.
First Aid Treatment - Antidote:


If swallowed:
Give a tablespoonful of salt in a glass of warm water and repeat until vomit fluid is clear. Give milk, or white of egg beaten with water.
If inhaled:
Remove to fresh air. Flush eyes and skin with plenty of water for at least 15 minutes. Call a physician. If not breathing, give artificial respiration, preferably mouth to mouth. If breathing is difficult, give oxygen. Induce vomiting. Never administer anything by mouth to an unconscious person.
Presentation:


1 gallon container.
VEDCO - 11/10/98.1