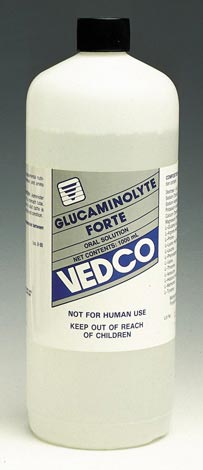 Large Animal Dietary Supplement
Click here for MSDS
Active Ingredients:


Each 1,000 mL of aqueous solution contains:
Dextrose 300.0 g
Sodium chloride 5.4 g
Sodium acetate anhydrous 3.0 g
Potassium acetate 1.0 g
Calcium chloride 330.0 mg
Magnesium chloride 260.0 mg
L-glutamic acid 560.0 mg
L-arginine hydrochloride 450.0 mg
L-proline 400.0 mg
L-lysine hydrochloride 240.0 mg
L-leucine 160.0 mg
L-phenylalanine 110.0 mg
L-valine 110.0 mg
L-threonine 100.0 mg
L-isoleucine 70.0 mg
L-histidine hydrochloride 40.0 mg
L-methionine 40.0 mg
L-tyrosine 240.0 mg
Methylparaben (preservative) 0.09%
Propylparaben (preservative) 0.01%
Indications:


For use as a supplemental source of electrolytes, dextrose, and amino acids in cattle.
Dosage and Administration:


Administer orally as a drench or by the use of a stomach tube. The usual recommended dose in adult cattle is 500 to 1,000 mL, depending upon the size and the condition of the animal.
Precautions:


Store at a controlled room temperature between 59-86°F (15-30°C).
KEEP OUT OF THE REACH OF CHILDREN.
NOT FOR HUMAN USE.
Presentation:


1,000 mL containers.
VEDCO - 11/10/98.1