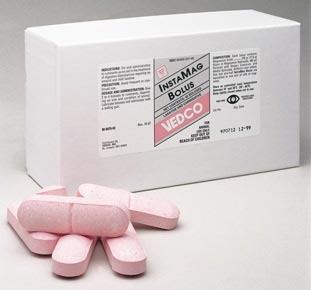 Laxative and Carminitive
Click here for MSDS
Indications:


For oral administration to ruminants as an aid in the treatment of digestive disturbances requiring an antacid and mild laxative.
Description:


InstaMag Bolus aids in providing efficient relief of rumen discomfort and restoration of normal function by providing a three way effect:
• Laxative
• Antacid
• Carminative
InstaMag provides a complete and rapid bolus disintegration within the gastric tract. Animals that are treated benefit quickly and completely from the full dose.
Special Carrier:


Has an affinity for gastric fluids. The bolus will quickly absorb gastric fluids, wicking them into the interior of the bolus, causing it to expand and disintegrate very quickly. Carefully controlled compression parameters during manufacturing provide the delicate balance between boluses hard enough to withstand rigors of shipping and handling, yet still aid disintegration after administration in a rapid and efficient manner.
Precaution:


Avoid frequent or continued use.
Dosage and Administration:


Give 2 to 4 boluses to ruminants, depending on size and condition of animal. Lubricate boluses and administer with a balling gun.
Composition:


Each bolus contains: Magnesium Oxide, 276 gr. (17.9 g) (Equiv. to magnesium Hydroxide, 400 gr.). Flavored with Ginger, Capsicum, and Methyl Salicylate. Artificial color added. One and one-half INSTAMAG BOLUS are equivalent to one pint of milk of magnesia.
Store at controlled room temperature between 15° and 30°C (50°-86°F). Keep tightly closed when not in use.
FOR ANIMAL USE ONLY.
KEEP OUT OF REACH OF CHILDREN.
VEDCO - 11/10/98.1