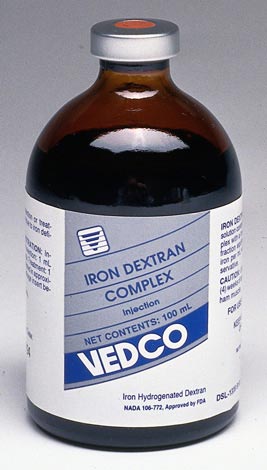 CLICK HERE FOR MSDS
INJECTION
NADA No.: 138-255
Active Ingredients:


Each mL contains 100 mg of elemental iron stabilized with a low molecular weight hydrogenated dextran and 0.5% phenol as a preservative.
Indications:


For the prevention or treatment of baby-pig anemia due to iron deficiency.
Dosage and Administration:


For intramuscular injection only.
Prevention:


1 mL (100 mg iron) at two (2) to four (4) days of age.
Treatment:


1 mL (100 mg iron). Treatment may be repeated in 10 days. Notice: Organic iron preparations injected intramuscularly into pigs beyond four (4) weeks of age may cause staining of muscle tissue.
Precautions:


Store at a controlled room temperature between 59-86°F (15-30°C). Protect from freezing.
KEEP OUT OF THE REACH OF CHILDREN
NOT FOR HUMAN USE
Presentation:


100 mL sterile multiple dose vials.
VEDCO - 11/10/98.1