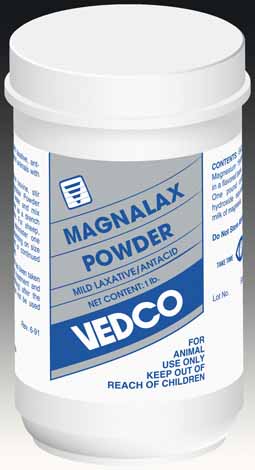 Antacid-Laxative
Click here for MSDS
Active Ingredients:


Each bolus contains:
Magnesium oxide 10.35 oz.
With kaolin and flavoring agents (capsicum, ginger and methyl salicylate). One pound contains magnesium hydroxide equivalent to one gallon milk of magnesia.
Indications:


A mild laxative, antacid and detoxicant for simple indigestion of ruminants.
Dosage and Administration:


For mature bovine:
Mix one (1) pound thoroughly with one (1) gallon of water and administer as a drench or with a stomach tube. Dose smaller animals according to size and weight.

Sheep or Goats:
Two (2) ounces mixed with water. Shake well before administering.
Precautions:


Do not store above 86°F (30°C).
Cautions:


Frequent or continued use should be avoided.
KEEP OUT OF THE REACH OF CHILDREN
Warnings:
Milk that has been taken from animals during treatment and for 24 hours (2 milkings) after the latest treatment must not be used for food.
Presentation:


1 lb. and 25 lb. containers.
VEDCO - 11/10/98.1