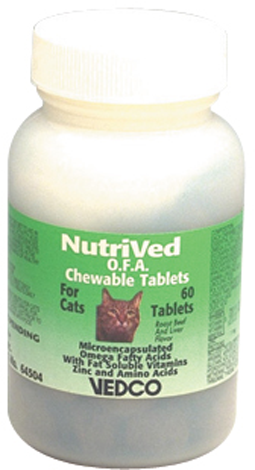 Small Animal Dietary Supplement
Click here for MSDS
Active Ingredients:
Each chewable tablet contains:
Marine lipid concentrates 135 mg
Vegetable oils 28 .5 mg
Total fatty acids 163.5 mg
Vitamins:
Vitamin A 750 I.U.
Vitamin D3 150 I.U.
Vitamin E 12.5 I.U.
Choline 775 mcg
Inositol 550 mcg
Minerals:
Zinc 1 mg
Proteins:


Includes the following amino acids: Alanine, arginine, aspartic acid, cysteine, cystine, glutamic acid, glycine, histidine, hydroxyproline, isoleucine, leucine, lysine, methionine, phenylalanine, proline, serine, threonine, tyrosine, tryptophan, and valine.
Indications:
NUTRIVED O.F.A. Chewable Tablets for Cats are a supplemental source of omega fatty acids, vitamins A, D3, and E, and zinc, which are beneficial to cats for the maintenance of healthy skin and coats.
Dosage and Administration:
For diet supplementation:
Cats under 10 lbs. 1/2 to 1 tablet a day
Cats 10 lbs. and over 1 to 2 tablets a day
Administer free choice just prior to feeding, or crumble and mix with food.
Presentation:
Bottles of 60 tablets.
VEDCO - 11/10/98.1