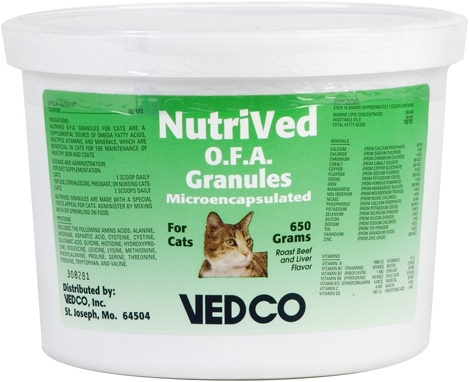 Small Animal Dietary Supplement
Click here for MSDS
Active Ingredients:
Each 10 g (approximately 1 scoop) contains:
Taurine 100 mg
Essential Fatty Acids:


Linoleic acid 458 mg
Linolenic acid 34 mg
Arachidonic acid 81 mg
Eicosapentaenoic acid 55 mg
Docosahexaenoic acid 32 mg
Docosapentaenoic acid 8 mg
Total fatty acids (as glycerides) 845 mg
Minerals:


Calcium (from calcium phosphate) 50 mg
Chloride (from sodium chloride) 4 mg
Chromium (from chromium chloride) 1 mcg
Cobalt (from cobalt sulfate) 100 mcg
Copper (from copper gluconate) 200 mcg
Fluoride (from sodium fluoride) 6 mcg
Iodine (from potassium iodide) 200 mcg
Iron (from ferrous fumarate) 5 mg
Manganese (from manganese sulfate) 200 mcg
Molybdenum (from molybdenum trioxide) 1 mcg
Nickel (from nickel chloride) 1 mcg
Phosphorus (from calcium phosphate) 39 mg
Potassium (from potassium iodide) 62 mcg
Selenium (from selenium powder) 4 mcg
Silicon (from silicon dioxide) 1 mcg
Sodium (from sodium chloride) 2 mg
Tin (from tin powder) 1 mcg
Vanadium (from vanadium oxide) 1 mcg
Zinc (from zinc oxide) 300 mcg
Vitamins:


Vitamin A 1,500 I.U.
Vitamin B1 (thiamine) 810 mcg
Vitamin B2 (riboflavin) 1 mg
Vitamin B6 (pyridoxine) 410 mcg
Vitamin B12 (cyanocobalamin) 4 mcg
Vitamin C 4 mg
Vitamin D3 150 I.U.
Vitamin E 4 I.U.
Biotin 10 mcg
Choline 50 mg
Folic acid 20 mcg
Inositol 20 mg
Niacin 4 mg
Pantothenic acid 1 mg
Proteins:


Includes the following amino acids: Alanine, arginine, aspartic acid, cysteine, cystine, glutamic acid, glycine, histidine, hydroxyproline, isoleucine, leucine, lysine, methionine, phenylalanine, proline, serine, threonine, tyrosine, tryptophan, and valine.
Indications:
For supplementation of the diet to aid in the prophylaxis and treatment of fatty acid, multiple vitamin and mineral deficiencies. As such NUTRIVED O.F.A. Granules should prove beneficial in the improvement and maintenance of healthy skin and coats on cats.
Dosage and Administration:


For diet supplementation:
Cats – 1 scoop a day
For sick, convalescing, pregnant, or nursing cats – 2 scoops a day
Administer by mixing with, or sprinkling on food.
Presentation:
650 g container.
VEDCO - 11/10/98.1