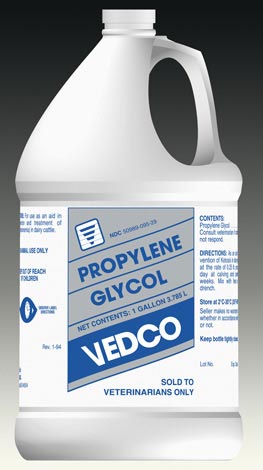 Acetonemia Preparation
Click here for MSDS
Active Ingredients:


Contains propylene glycol.
Indications:


For the prevention and treatment of ketosis in dairy cattle. Consult a veterinarian.
Dosage and Administration:
As an aid in the prevention of ketosis in dairy cattle, feed at the rate of 0.25 lbs. per head per day at calving and continue for six (6) weeks. Mix with feed or use as a drench. Seller makes no warranty of any kind whether in accordance with directions or not.
Cautions:


Federal law restricts this drug to use by or on the order of a licensed veterinarian.
KEEP OUT OF THE REACH OF CHILDREN.
FOR VETERINARY USE ONLY.
Presentation:


1 gallon containers.
VEDCO - 11/10/98.1