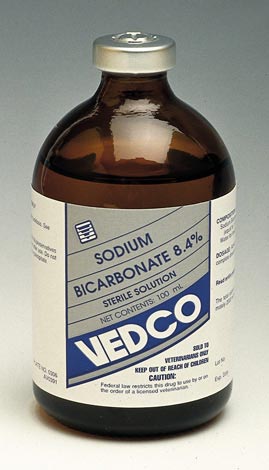 8.4%
Click here for MSDS
Active Ingredients:


Each mL contains:
Sodium bicarbonate (equal to 1 mEq/mL) 84 mg
Water for injection q.s.
The total osmolar concentration of the product is approximately 2,000 mOsm/L.
Indications:


For the treatment of metabolic acidosis.
Dosage and Administration:


Administer intravenously. Sodium bicarbonate is often given with other intravenous fluids for the less urgent forms of metabolic acidosis. The amount of bicarbonate to be given over a 4- to 8-hour period is approximately 2-5 mEq per kg of body weight, or 1-2.5 mL per lb., depending upon the severity of the acidosis.
Precautions:
Store at a controlled room temperature between 15° and 30°C (59°-86°F).
Cautions:


Federal law restricts this drug to use by or on the order of a licensed veterinarian. SODIUM BICARBONATE 8.4% is in a sterile single dose vial. Preservatives have not been added. Discard the unused portion after use. Do not use if the solution is hazy, cloudy, or if it contains a precipitate.
KEEP OUT OF THE REACH OF CHILDREN.
Presentation:


100 mL  bottles.
VEDCO - 11/10/98.1