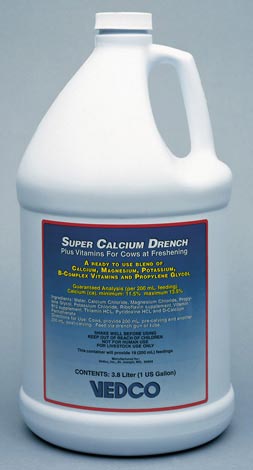 Calcium-Oral
Click here for MSDS
Guaranteed Analysis:


(per 200 mL feeding): Calcium (ca), minimum: 11.5%, maximum 13.5%.
Ingredients:


Water, calcium chloride, magnesium chloride, propylene glycol, potassium chloride, riboflavin supplement, vitamin B12 supplement, thiamin HCl, pyridoxine HCl and d-calcium pantothenate.
Indications:
A ready to use blend of calcium, magnesium, potassium, B-complex vitamins and propylene glycol.
Dosage and Administration:


Cows, provide 200 mL pre-calving and another 200 mL post-calving. Feed via drench gun or tube.
NOT FOR HUMAN USE — FOR LIVESTOCK USE ONLY.
KEEP OUT OF THE REACH OF CHILDREN.
Presentation:


3.8 liter (1 US gallon), provides 19 (200 mL) feedings.
VEDCO - 11/10/98.1