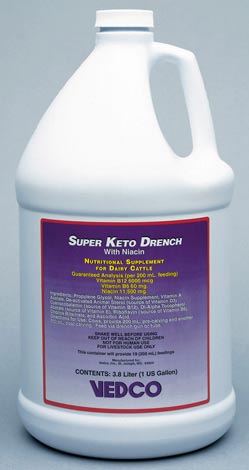 Acetonemia Preparations
Guaranteed Analysis:


(per 200 mL feeding):
Vitamin B12 6000 mcg
Vitamin B6 60 mg
Niacin 11,500 mg
Ingredients:


Propylene glycol, niacin supplement, vitamin A acetate, deactivated animal sterol (source of vitamin D3), cyanocobalamin (source of vitamin B12), dl-alpha tocopherol acetate (source of vitamin E), riboflavin (source of vitamin B6), choline bitartrate, and ascorbic acid.
Indications:


Nutritional supplement for dairy cattle.

Dosage and Administration:


Cows, provide 200 mL pre-calving and another 200 mL post-calving. Feed via drench gun or tube.
NOT FOR HUMAN USE —
FOR LIVESTOCK USE ONLY.
KEEP OUT OF THE REACH OF CHILDREN.
Presentation:


3.8 liter (1 US gallon), provides 19 (200 mL) feedings.
VEDCO - 11/10/98.1