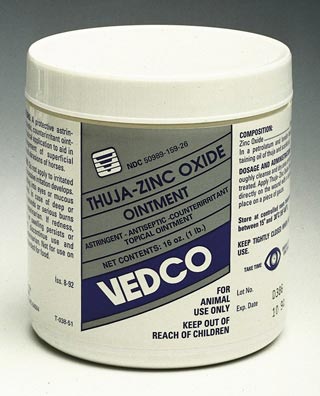 Topical Wound Dressing
NDC No.: 50989-159-26
Click here for MSDS
Active Ingredients:


Zinc oxide 10% w/w
In a petrolatum and lanolin ointment base containing oil of thuja and scarlet oil.
Indications:


A protective astringent, antiseptic, counterirritant ointment for topical application to aid in the management of superficial wounds and abrasions of horses.
Dosage and Administration:


Thoroughly cleanse and dry the area of the skin to be treated. Apply THUJA-ZINC OXIDE Ointment directly onto the wound with a spatula or place on a piece of gauze.
Precautions:


Store at a controlled room temperature between 15° and 30°C (59°-86°F). Keep the jar tightly closed when not in use.
Cautions:


Do not apply to irritated skin or if excessive irritation develops. Avoid getting into the eyes or on mucous membranes. In case of deep or puncture wounds or serious burns, consult a veterinarian. If redness, irritation, or swelling persists or increases, discontinue use and consult a veterinarian.
FOR ANIMAL USE ONLY.
KEEP OUT OF THE REACH OF CHILDREN.
Warnings:


Not for use on animals intended for food.
Presentation:


16 oz. (1 lb.) jars.
VEDCO - 11/10/98.1