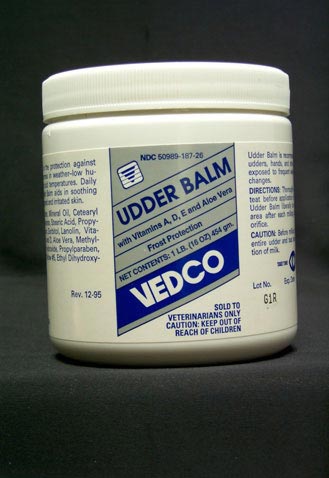 With vitamins A,D,E, and AloeVera
Frost Protection
Click here for MSDS
Net Contents:


1LB (16OZ) 454GM.
SOLD TO VETERINARIANS ONLY

Caution:


KEEP OUT OF REACH OF CHILDREN
Udder Balm aids in the protection against the effects of extremes in weather-low humidity, warm and cold temperatures. Daily application of Udder Balm aids in soothing and softening chapped and irritated skin.
Ingredients:


Water, Mineral Oil, Cetearyl Alcohol, Glycol Stearate, Stearic Acid, Propylene Glycol, Glycerin, Sorbitol, Lanolin, Vitamin E, Vitamins A and D, Aloe Vera, Methylparaben, sodium Hydroxide, Propylparaben, Fragrance, FD&C Yellow #5, Ethyl Dihydroxypropyl Paba.
Udder Balm is recommended for use on teats, udders, hands, and other skin areas that are exposed to frequent washing and temperature changes.
Directions:


Thoroughly dry udder and each teat before application of Udder Balm. Apply Udder Balm liberally to entire teat and udder area after each milking. Be sure to coat teat orifice.
Caution:


Before milking, thoroughly wash the entire udder and teat area to avoid contamination of milk.
TAKE TIME
OBSERVE LABEL DIRECTIONS
LOT No. Exp. Date