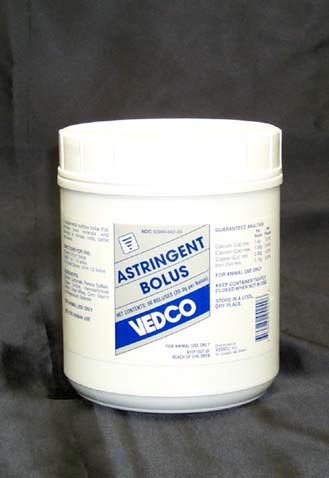 Astringent Boluses are a supplemental nutritive bolus that provides trace minerals and minerals for horses, colts, cattle and calves.
Directions for Use:


Horses: 1/2 to 1 bolus
Cattle: 1 to 1 1/4 bolus
Colts and Calves: 1/4 to 1/2 bolus.
Guaranteed Analysis:
Per Bolus Per Pound
Calcium (Ca) min. 1.4g 7.0%
Calcium (Ca) max. 1.68g 8.4%
Copper (Cu) min. 0.98g 4.9%
Iron (Fe) min. 1.16g 5.8%
Ingredients:
Calcium Carbonate, Ferrous Sulfate, Copper Sulfate, Hemicellulose Extract, Dried Whey, Corn Starch, and Magnesium Sterate.
For Animal Use only.
Keep container tightly closed when not in use, Store in a cool, dry place.
Presentation:
50 Boluses per container