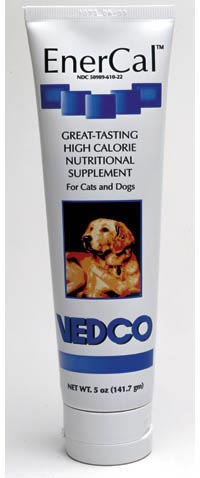 A vitamin and energy supplement for dogs and cats.
EnerCal also acts as an appetite stimulant and added source of energy.
Its highly palatable flavor aids in easy administration.
To acquaint pet to the flavor of EnerCal, place a small amount on your pets' nose or paw.
Click here for MSDS

Directions for Use:
To supplement your pet's regular caloric or nutritional intake, give 1 1/2 teaspoons per 10 pounds of body weight daily. For pets that are not eating, give 3 teaspoons (1 tablespoon) per 10 pounds of body weight daily. Calorie content: 4420 kcal/kg (26.5 kcal/6g).
Ingredients:
Corn Syrup, Soybean Oil (Source of LA and ALA), Malt Syrup, Cod Liver Oil (Source of EPA and DHA), Cane Molasses, Methylcellulose, Water, Peptones, dl-Alpha Tocopheryl Acetate (Vitamin E), Sodium Benzoate (Preservative), Manganese Sulfate, Iron Peptonate, Thiamine HCl, Nicotinamide, Calcium Pantothenate (Source of Calcium and Pantothenic Acid), Magnesium Sulfate, Pyridoxine HCl, Vitamin A Palmitate, Potassium Iodide (Source of Iodine and Potassium), Riboflavin 5' Phosphate Sodium (Source of Vitamin B2 and Phosphorus), Vitamin A Palmitate & D3 Concentrate, Folic Acid and Cyanocobalamin (Vitamin B12).
Packaged:


5 ounce tubes