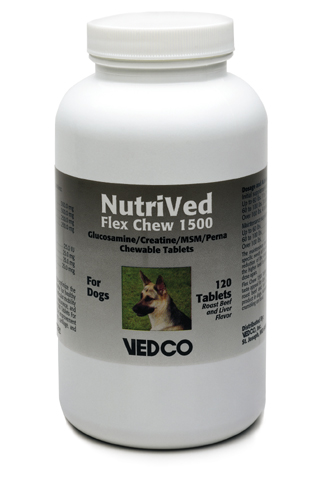 Providing the animal with the four of the most noted ingredients in chondroprotection.
Click here for MSDS
Vitamins & Minerals:


Vitamin E 25.0 IU
Vitamin C (Ascorbic Acid) 25.0 mg
Manganese Sulfate 25.0 mg
Selenium 25.0 mcg
Flex Chew 1500
A unique blend of ingredients for repairing and maintaining articular cartilage in dogs, including...
Composition
:
Each chewable tablet (3.0 grams) contains essential nutraceuticals.
Glucosamine HC1  500.0 mg
MSM (MethylSulfonylMethane) 500.0 mg
Creatine Monohydrate 250.0 mg
Perna Canaliculus 250.0 mg
Indications:
For supplementation of the diet to optimize the production of synovial fluid to provide for healthy joints and cartilage with increased articular mobility and to optimize muscle strength, endurance, and performance. As such, Flex Chew 1500 Tablets For Dogs should prove beneficial in the improvement and maintenance of healthy joints, cartilage, and muscle tissues in dogs.
Initial Supplementation:
(4 to 6 weeks)
Up to 60 lbs. 1 to 2 tablets daily (divided AM & PM)
60 to 100 lbs.3 tablets daily (2 AM & 1 PM)
Over 100 lbs. 4 tablets daily (divided AM & PM)
Maintenance Supplementation:
(after initial 4-6 weeks)
Up to 60 lbs. 1/2 to 1 tablets daily
60 to 100 lbs. 1 to 2 tablets daily
Over 100 lbs.2 to 3 tablets daily
Dosage and Administration:
The maintenance does may be gradually reduced to the specific needs of the animal. If lameness reoccurs after the reduction of the dosage, increase dosage and maintain at the higher level for at least two weeks before reducing the dose again.