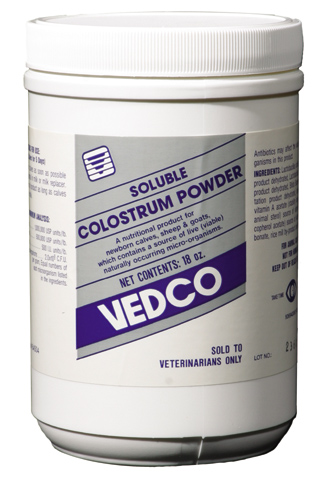 Soluble Colostrum Powder
A nutritional product for newborn calves, sheep & goats, which contains a source of live (viable) naturally occurring micro-organisms.
Net Contents: 18 oz.
Sold to veterinarians only.
Click here for MSDS
Antibiotics may affect the viability of the micro-organisms in this product.
Directions for use:
(Feeds 30 calves for 5 days)
Administer to newborn calves as soon as possible after birth: One teaspoonful in milk or milk replacer. Continue administration of product as long as calves are on milk replacer or milk.
Guaranteed minimum analysis:
Vitamin A - Not less than 1,000,000 USP units/lb.
Vitamin D3 - Not less than 500,000 USP units/lb.
Vitamin E - Not less than 500 I.U. units/lbs.
Lactic acid producing micro-organisms 2.0x108 C.F.U. per gram, Equal numbers of each micro-organism listed in the ingredients.
Ingredients:
Lactobacillus acidophilus fermentation product dehydrated, Lactobacillus casei fermentation product dehydrated, Bifido Bacterium bifidis fermentation product dehydrated, dried milk colostrum, vitamin A acetate (stability improved), (d-activated animal sterol) source of vitamin D3, (dl-alpha tocopherol acetate) source of vitamin E, calcium carbonate, rice mill by-product and dextrose.
For animal use only
Not for human use
Keep out of reach of children