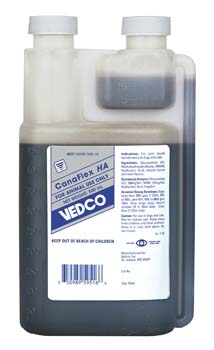 With Oral Hyaluronic Acid
The most advanced product for
Canine & Feline Joint Health
The First Oral Hyaluronic Acid for Small Animals!
A formula of Hyaluronic Acid, Glucosamine HCl and MSM.
Palatable liquid- 95+% palatability in dogs, 80% in cats.
Quickly absorbed and assimilated in the bloodstream.
Easy administration options - give by itself, with water or food.
Unique precision dose dispensing bottle.
Indicated for use in both cats & dogs.
Eliminates the peaks and valleys of periodic injections.
Click here for MSDS
Ingredient Amount per Dose:


Glucosamine HCl 500mg per 5 mL
Methylsulfonylmethane (MSM) 125mg per 5 mL
Hyaluronic Acid (HA) 1mg per 5 mL
Hyaluronic Acid offering these additional benefits:
Natural, non-toxic, safe and effective in dogs and cats.
Acts as a "shock absorber" between bones and cartilage.
Lubricates 6 times faster than Glucosamine or Chondroitin-lubricating joints in 2-3 weeks instead of 12-16 weeks.
Has natural pain relief properties.
Glucosamine HCI


1. A major source of nutrients for the synthesis of proteoglycans and glycosaminoglycans (GAGs), proteins that bind water in the cartilage matrix.
2. A stimulant needed to spur chondrocytes to produce more collagen and proteoglycans.
3. A regulator of cartilage metabolism which helps to keep cartilage from breaking down.
Methylsulfonylmethane (MSM)


1. Protects and nourishes connective tissues in joints.
2. Has anti-inflammatory and antioxidant activity.
3. Increases the bioavailability of glycosaminoglycans.
Hyaluronic Acid (HA)
1. GAG found in synovial fluid and cartilage.
2. The body's most essential water-holding molecule.
3. Acts as a lubricant and shock absorber.
Dosage

Cats and dogs under 20 pounds 2.5 mL daily
Dogs 20 - 40 pounds 5 mL daily
Dogs 40 - 80 pounds 10 mL daily
Dogs over 80 lbs 15-20 mL daily
Give the above doses twice daily for the first 2 weeks, then reduce the dose to once daily for maintenance.