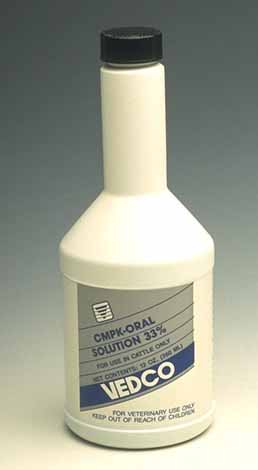 CMPK-ORAL SOLUTION 33%
Calcium-Oral
Click here for MSDS

Active Ingredients:
Each 12 oz. (360 mL) bottle contains:
Calcium chloride 118.8 g (33%)
Phosphate 6.2 g (1.7%)
Magnesium 2.9 g (0.8%)
Potassium 1 g (0.3%)
Indications:
CMPK-ORAL is indicated for use as a supplemental source of calcium, potassium, phosphorus and magnesium in cattle.
Dosage and Administration:
Administer at the rate of one (1) bottle each day or additionally upon the direction of a veterinarian. Administer with care to avoid aspiration. Shake well before use.
Cautions:


An overdose can cause hypercalcemia. At the first sign of hypercalcemia, discontinue use and consult a veterinarian.
FOR USE IN CATTLE ONLY.
FOR VETERINARY USE ONLY.
KEEP OUT OF REACH OF CHILDREN.
Presentation:


12 oz. (360 mL) bottle.
VEDCO - 11/10/98.1