Pet Rescue Glucose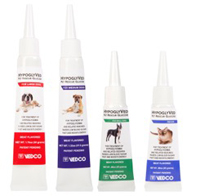 • To be used as in the treatment of accidental insulin overdose.
• Or other conditions of hypoglycemia that would require glucose therapy.
• Raises blood sugar quickly and provides quick energy.
• When indicated, administer the entire contents of the tube into the mouth of the pet.
• Palatable meat flavor.
• Four presentations available.
• HypoglyVed for Large Dogs 50 gram
• HypoglyVed for Medium Dogs 37.5 gram
• HypoglyVed for Small Dogs 25 gram
• HypoglyVed for Cats 25 gram