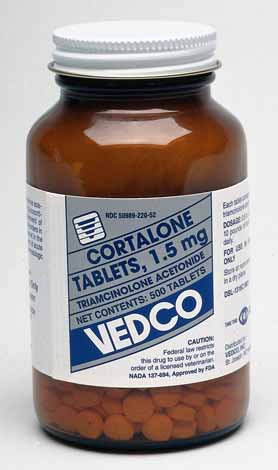 Corticosteroid-Oral
NADA No.: 137-694
Click here for MSDS
Available in two strengths. Either 0.5 mg. per tablet or 1.5 mg per tablet.
Active Ingredients:
Each tablet contains 0.5 mg or 1.5 mg triamcinolone acetonide.
Indications:
Triamcinolone acetonide is a highly potent glucocorticoid effective in the treatment of inflammation and related disorders in dogs and cats. It is indicated in the management and treatment of acute arthritis and allergic and dermatologic disorders.
Dosage and Administration:
0.5 to 1.0 mg per 10 pounds of body weight daily.
Precautions:
Store at room temperature in a dry place.
Cautions:
Federal law restricts this drug to use by or on the order of a licensed veterinarian.
Warnings:
For oral use in dogs and cats only. For animal use only.
KEEP OUT OF REACH OF CHILDREN.
FOR USE IN ANIMALS ONLY.
Presentation:
0.5 mg: 1000 tablets. 1.5 mg: 500 tablets.
VEDCO - 11/10/98.1