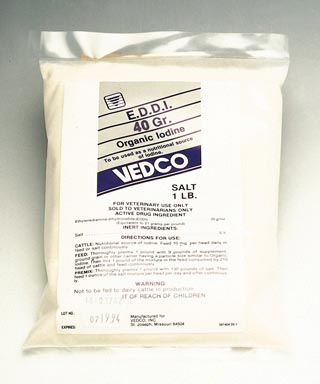 Mineral Supplement
Click here for MSDS
Active Ingredients:


Ethylenediamine dihydroiodide (EDDI) (equivalent to 40 grains per pound) 40 gr/oz.
Inert Ingredients:
Salt q.s
Indications:


To be used as a source of iodine.
Dosage and Administration:


Cattle: Source of iodine: Feed 10 mg per head per day in feed or salt continuously.
Feed: Thoroughly premix 1 lb. with 9 lbs. of supplement, ground grain, or another carrier having a particle size similar to organic iodine. Then mix 1 lb. of the mixture in the feed consumed by 415 head of cattle and feed continuously.
Premix: Thoroughly premix 1 lb. with 260 lbs. of salt. Then feed 1 oz. of the salt mixture per head per day and offer continuously.
KEEP OUT OF REACH OF CHILDREN.
FOR VETERINARY USE ONLY.
Warnings:


Not to be fed to dairy cattle in production.
Presentation:


1lb. poly bags and 25 lb. bulk containers.
VEDCO - 11/10/98.1