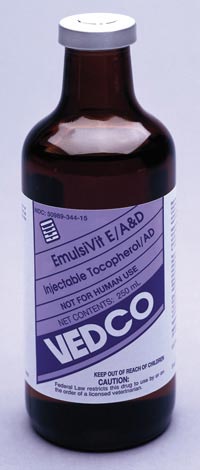 Vitamins A-D-E
NDC No.: 50989-344-15
Click here for MSDS
Active Ingredients:


Each mL contains:
Vitamin E (as d-alpha-tocopherol, a natural source of vitamin E) 300 I.U.
Vitamin A propionate 100,000 I.U.
Vitamin D3 10,000 I.U.
Compounded with 2% benzyl alcohol (preservative) in a water emulsifiable base. EMULSIVIT E/A&D is a clear, sterile nonaqueous solution of vitamin A, vitamin D3, and vitamin E.
Indications:


EMULSIVIT E/A&D is intended as a supplemental source of vitamins A, D, and E.
Dosage and Administration:
For intramuscular or subcutaneous administration only. The dose may be repeated as needed. If the dose is greater than 5 mL, equally divide the dose and inject at two (2) different sites.
Suggested Dosage:


Swine:
Sows and Gilts:
1-2 wks pre-breeding 4-6 mL
1-2 wks pre-partum 4-6 mL

Pigs:
At birth 1-2 mL
At weaning 2-3 mL
Cattle (Dairy and Beef):
Cows and Heifers:
2-3 wks pre-partum 8-10 mL
At calving 8-10 mL
End of lactation 8-10 mL
Calves:
At birth 4-6 mL
At weaning 4-6 mL
Yearlings 5-6 mL
Sheep:
Ewes:
2-3 wks pre-partum 4-5 mL
At lambing 4-5 mL
Lambs:
At birth 2-3 mL
At weaning 2-3 mL
Finishing lambs 3-4 mL
Precautions:


Store between 2° and 30°C (36° and 86°F) in a dark place.
Cautions:


Federal law restricts this drug to use by or on the order of a licensed veterinarian. Do not exceed the recommended dosage. Occasionally, reactions of an anaphylactic or allergic nature may occur. Should such reactions occur, treat immediately with an injection of epinephrine or antihistamines. Do not add water to the solution.
KEEP OUT OF REACH OF CHILDREN.
Discussion:
Natural vitamin A (carotenes), and tocopherols can be destroyed in feedstuffs through processing, ensiling and storage. Due to these losses, reduced intakes of fat-soluble vitamins can occur in animals maintained in continual confinement compared to animals allowed to graze lush pasture. Intramuscular or subcutaneous injections offer a rapid method to increase the vitamin A, vitamin D and vitamin E status of animals.
Presentation:


250 mL vials.
VEDCO - 11/10/98.1