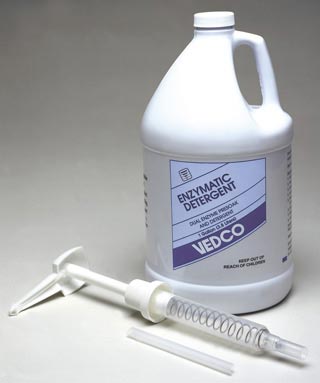 Click here for MSDS
Production Description:


ENZYMATIC DETERGENT is a specially formulated pre-soak and cleaner designed to provide one step cleaning of delicate fiber optic equipment such as endoscopes and cystoscopes, as well as other surgical instruments including those used for eye, cardiovascular and general surgery. It is designed as a soak solution for surgical instruments to be used immediately following their use in a surgical procedure.
ENZYMATIC DETERGENT minimizes equipment handling, thus reducing exposure to potentially infectious organic contaminants, and assures the thorough and complete cleaning of the equipment and instruments, a prerequisite to the completion of the decontamination process. The enzymes in this detergent quickly disintegrate organic soils in hard to reach areas, including lumens, channels and box locks.
Due to the product being formulated in a liquid state, the ENZYMATIC DETERGENT disperses instantly and completely without mixing. It is easy to use and dissolves much more quickly than powders.
The enzymes break down (actually digest) the organic soils and the detergent action removes them completely holding them in suspension, thus avoiding the redepositing of soil on the cleaned surfaces. ENZYMATIC DETERGENT contains two enzymes - one for breaking down protein and another that breaks down carbohydrates. It can be used as a manual cleaner or in ultrasonic washers.
Need:


Specialty departments and central processing need a specialty cleaner to process scopes and sophisticated instrumentation. This instrumentation is often contaminated with organic soils that are difficult to remove. Enzymatic cleaners are needed to help dissolve, lift and disperse dirt and unwanted contamination. ENZYMATIC DETERGENT rapidly breaks down and loosens blood, mucous and other proteinaceous materials.
Procedure:


Instruments and scopes are returned to the processing area for soaking in the enzymatic cleaner, then hand washed or ultrasonically cleansed. The goal is to remove all organic dirt such as blood and tissue.
Features - Benefits:
ENZYMATIC DETERGENT — Disintegrates organic soils
Highly concentrated — Low cost per use (Y2 - 1 oz. per gallon of water)
pH near neutral — Non-polluting, ecology minded (contains no phosphates, no chlorides) Biodegradable
Double action — Both a pre-soak and a cleaner. Saves time and labor.
Bacteriostatic — Shelf Stable.
Directions for Use:


Presoak & Manual Detergent:
I oz. - 2 oz. per gallon of water. Soak 2-3 minutes or more. Rinse.
Ultrasonic & Washer Sterilizer:
1/2 - 1 oz. per gallon. Temperature range 5~1 400F.
Physical Properties:


Form Liquid
Color Bluish green
Odor Spearmint
pH 8.45
Sp. G 1.12
Flash Pt. >2120F
Presentation:


1 gallon containers with pump
VEDCO - 11/10/98.1