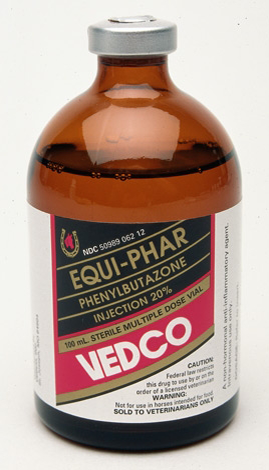 20% Phenylbutazone-Injection
ANADA 200-371, Approved by FDA
Click here for MSDS
Active Ingredients:


Each mL of sterile aqueous solution contains:
Phenylbutazone 200 mg
Benzyl alcohol 1.5%
Sodium hydroxide used to adjust pH and water for injection U.S.P.
Indications:


For relief of inflammatory conditiond associated with the musculoskeletal system in horses.
Dosage and Administration:


The
intravenous
dose for horses is 5 to 10 mL (1 to 2 g) per 1,000 lbs. per day. The injection should be administered slowly. Intravenous administration should be limited to five (5) consecutive days. An initial high dose is recommended to obtain a prompt effect. As the symptom regresses, the dose should be reduced.
Precautions:


Store the product in a cool place (46° to 59°F) or alternatively store in a refrigerator.
Cautions:


Federal law restricts this drug to use by or on the order of a licensed veterinarian.
SOLD TO VETERINARIANS ONLY.
Warnings:


Not for use in horses intended for food.
Presentation:


100 mL sterile multiple dose vial.
VEDCO - 11/10/98.1