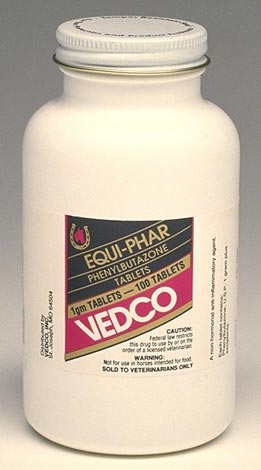 Phenylbutazone-Oral
ANADA 200-433, Approved by FDA
Click here for MSDS
Active Ingredients:


Each tablet contains:
Phenylbutazone, U.S.P. 1 g
Plus excipients.
Indications:


Phenylbutazone is for relief of inflammatory conditions associated with the musculoskeletal system in horses.
Dosage and Administration:


Orally: One (1) to two (2) boluses per 500 lbs. of body weight, but not to exceed 4 g per day. Reduce the dosage as symptoms regress. The oral dose for horses is two (2) to four (4) tablets (2 to 4 g) per 1,000 lbs. per day. The total daily dose should be limited to four (4) boluses per day. Because of the relatively short half-life of the drug, administration every eight (8) hours is the most satisfactory schedule.
Cautions:


Federal law restricts this drug to use by or on the order of a licensed veterinarian.
SOLD TO VETERINARIANS ONLY.
Warnings:


Not for use in horses intended for food.
Presentation:


100 tablet containers.
VEDCO - 11/10/98.1